Reading folds

at SEA Foundation
2021 - 2023
30.03.2023
with
Doris Hardeman
ft. Cas-co Leuven, reading excerpts from
Breathing: Chaos and Poetry
by Franco 'Bifo' Berardi
"Chaos has the potency to make creation possi- ble. Can the collective brain consciously master and attune to the evolution of the collective brain itself?" (p. 50)
"When the illusion of meaning is shared, it is no longer an illusion: it becomes reality. The bridge over the abyss is the dialogue that allows for the sharing of a vision, of an expectation, of an intention. This dialogue is based on refrains of nonattachment, and it eman- cipates us from the fear of not being. Getting freed from the will to live is the condition for being alive at last. The bridge over the abyss of the absence of meaning can take many forms: falling in love, ten- derness, collective creation, hallucination, and movement. These forms give birth to the physical experience of meaning." (p. 145)
23.02.2023
with
Risk Hazekamp
reading excerpts from
Fires, Fogs, Winds
by Elizabeth Povinelli
"Anthropologist Ali Feser has found that no matter the hard evidence of Kodak's liability, many former employees and their children could not simply kick their habit of associating the astringent signature smell of photographic chemicals with better days, happier moments, more secure futures. The sensory history of chemicals sear into the affects, creating bonds of desire, nostalgia, and mourning for the very toxins now slowly overheating bodies and landscapes." (p. 26)
"Fire is the element that transforms substances. It brings about new forms, with new memo- ries, desires, and nostalgia. These forms do not abide by the logic of vitality, but man- ifest an affiliation with the errant harms of a grinning geontopower. Now we know that fire is just one effect of oxidation—the loss of one or more electrons when two substances interact—a chemical bonding." (p. 28)
26.01.2023
with
Gladys Zeevaarders
reading excerpts from
Phenomenology of Perception
by Maurice Merleau-Ponty
"I shall therefore give up any attempt to define sensation as pure impression. Rather, to see is to have colours or lights, to hear is to have sounds, to sense (sentir) is to have qualities. To know what sense- experience is, then, is it not enough to have seen a red or to have heard an A? But red and green are not sensations, they are the sensed (sen- sibles), and quality is not an element of consciousness, but a property of the object. Instead of providing a simple means of delimiting sensa- tions, if we consider it in the experience itself which evinces it, the quality is as rich and mysterious as the object, or indeed the whole spectacle, perceived." (p. 5)
02.12.2021
with
Laura Castro
reading excerpts from
A Moving Border. Alpine Cartographies of Climate Change
by Studio Folder
"A boundary is, at its most straightforward, a line that divides. Today we think of a boundary as a line that divides two places, often states. This line can be drawn in different ways - made visible on the landscape through fences, walls, or ditches, or simply by cutting through forest or brush. It might be invisible to a person on the ground on the ground but enforced by a clause in a treaty or other legal agreement. Politics, people, and materials cross such lines all the time, weather with ease or friction. A boundary is, in this definition, a line with nominally zero width." (p. 51)
18.11.2021
with
Sophia Holst
reading excerpts from
Common Space: The City as Commons
by Stavros Stavrides
"Space is an active form of social relations, a constituent aspect of social relations and a set of relations itself. Space matters because it is not an
inert container of social life but an integral part of its manifestations and its events. Space gives form to encounters because it is a structured system of relations....For common space to remain as common there needs to be a mechanism that continuously processes the contribution of those who are invited to use common space. In other words, common space cannot be fixed in the form of a product (no matter how collectively it was produced) because it keeps on producing those who produce it. The production and uses of common space cannot be separated." (p. 260)
16.09.2021
with
Amy Franceschini
reading excerpts from
The Politics of Small Gestures: Chances and Challenges for Contemporary Art
by Mika Hannula and
Devil and Commodity Fetishism in South America
by Michael Taussig
"I will argue for a version of contemporary art that is a part of our everyday expe- rience. I want to see art as a partner in crime. A crime of passion, that is: participating in the processes of shaping and making the content of concepts and symbols. A web of processes that aims at generating sustainable conditions for knowledge production. It is a version of involvement in contemporary art that focuses on what it has to say to us about our lives. It is not high up there somewhere, and neither is it down there anywhere. It is near, within sight, so close it tickles our imaginations." (Hannula, p. 6)
08.07.2021
with
Sheng-Wen Lo
reading story The Snake by John Steinbeck
"The snakes were bunched and resting in the corners of the cage, but every head was clear; the dusty eyes seemed to look at nothing, but as the young man leaned over the cage the forgued tongues, black on the ends and pink behind, twittered out and waved slowly up and down. Then the snakes recognized the man and pulled in their tongues." (p. 49)
17.06.2021
with
Katarina Jazbec
reading
Mimetic Traps: Forests, Images, Worlds
by Pedro Neves Marques
"Here, Kopenawa is focusing on myths and cosmogonist stories common across Amerindian South America: the first times, long ago yet in ever-present actualization, when all living forms, whether animal or plant, were human. Accordingly, image-spirits refer not only to the image-double of a given animal but also to humanity in general: a common humanity, visible at the beginning of time and now invisible, because dispersed into the forms taken by the many species-beings of the forest—beings who, each from their own perspective, still see themselves as humans but who cannot see us or any other animals or plants as such." (p. 28)
"There is no stepping outside oneself, it seemsto me, in Kohn's example; no illusion of transcendence or transparency. One does not become the other; one becomes something else, something in-between—a form of learning from the
interval
." (p. 34)
20.05.2021
with
Mari Keski-Korsu
reading
Hydrofeminism: Or, on Becoming a Body of Water
written by Astrida Neimanis
"Even while in constant motion, water is also a planetary archive of meaning and matter. To drink a glass of water is to ingest the ghosts of bodies that haunt that water. When "nature calls" some time later, we return to the cistern and the sea not only our antidepressants, ourchemical estrogens, or our more commonplace excretions, but also the meanings that permeatethose materialities: disposable culture, medicalized problem-solving, ecological disconnect." (p. 98)
"In acknowledging this corporeally connected aqueous community, distinctions between human and nonhuman start to blur. We live in a watery commons, where the human infant drinks the mother, the mother ingests the reservoir, the reservoir is replenished by the storm, the storm absorbs the ocean, the ocean sustains the fish, the fish are consumed by the whale. The bequeathing of our water to an other is necessary for the custodianship of this commons. But when and how does gift become theft, and sustainability usurpation?" (p. 105)
Studio encounters and curatorial practice

at SEA Foundation
2020 - 2023
25.03. - 07.05.2023
'Over and over and over' we become
a group exhibition with Kristine White, Alberto Maggini & Cecilia Casabona
(image credit: Kristine White, Three Ecologies, 2023)
04.02. - 11.03.2023
Jamie Kane in WARP
(image credit: Jamie Kane, Carriers, 2023)
03.12.2022 - 29.01.2023
Steffie de Gaetano in WARP
(image credit: Steffie de Gaetano, Permeance, 2020 - 2022)
28.10. - 18.11.2022
Pauline Berger in WARP
(image credit: Pauline Berger, carry me, weight (atlas), 2022)
16.10. - 15.11.2020
Peng Zhang in WARP
(image credit: Peng Zhang, Villagers in Memory, 2019)
05.06. - 05.07.2020
Sabine de Graaf in WARP
(image credit: studio encounter with Sabine de Graaf, 2020)
Collaboration

with Frankie Clark
2014 - 2016
2016 The Last Supper

dinner on London Bridge cooked from the 'expired' ingredients donnated from the local shops or picked up from the dumpsters
2014
One Night Home
intallation in public space in protest with the law criminalising the rought sleeping in certain boroughs of London
Independent cinema

Studio Karel
2012 - 2013
logo by Eva Šlosarová
Studio Karel is devoted to the memory of Czech-born British filmmaker, Karel Reisz, who spent his childhood in the house where cinema and arts centre Stara arena are located.
"Studio Karel" was founded by the distribution company Artcam, civic organization Filmoteka Ostrava which is the organizer of the International Cinematographers Film Festival and by Stara arena, the arts centre with a long cultural tradition.
July and August 2012 posters by Markéta Hajduková
December 2012 poster by Martin Cihlář
January 2013 poster by Honza Vrabček
February 2013 poster by Nicola Szabo
March 2012 poster by Eva Jašková
April 2012 poster by Jiří Franek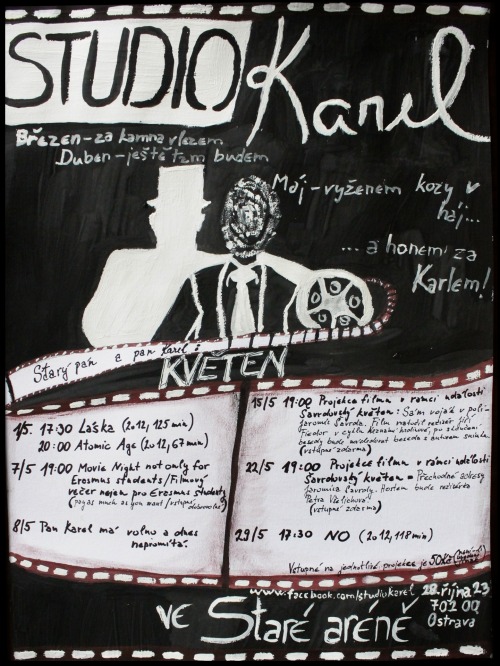 May 2012 poster by Eliška Kučáková
Exhibition concept

in Cooltour
2012
Sillicon Heaven of Ostrava
Under the platform of multidisciplinary contemporary arts centre Cooltour in my hometown, I had the chance to initiate the project called "Silicon Heaven of Ostrava" focusing on the connection of arts and ecology through the usage of electrical waste.
The name of the project was inspired by the British sitcom Red Dwarf, the episode "Last day", where the android Kryten was concieved that all of the old electrical machines, robots and even the calculators will come to the silicon heaven.
The aime was to make a workshop and the exhibition made out for the electrical junk and to present to the public how the diferent kinds of material can be transformed into the art. The official workshop was held at the Faculty of Fine Arts at the University of Ostrava by students of Sculpture, supervised by Jaroslav Koléšek and Jan Šnéberger, and by students of Intermedia studies supervised by Petr Lysáček. The documentary edited and co-directed by Eva Šlosarová was made during the making process (only in Czech).
In October, students entered an electrical waste recycling center and chose up to 1 tonne of waste. Afterwards they were creating their art objects in the studios. The project culminated with an exhibition in the Multidisciplinary Contemporary Arts Centre in the end of November 2012. The part of the event was also screening of the movie Waste Land, music experiment of local music formation Chee Chaak Tips! Crew and cassettes tapes painting by young artist Eva Jašková.
Project was held with the support of OKD Foundation and the participation of the non-profit organization Asekol organizing the collection of the electrical waste on the national level. In the section "For Joy" of OKD Foundation the project was awarded as the best project of the year 2012 in the region.
Last but not least, during the whole exhibiting time the project was followed by the supportive events - screening of the movie Garbage Warrior, design workshop from the electrical waste by Vladimir Růžička (
WASTED
) and the competition for public in making DIY objects from electrical waste.